YOUR CAKEY GUIDE TO YUMMY FLAVOURS
Our goal is to make everyone in the room say yum! And pat their bellies in a satisfied manner. So, we have lots of really lovely flavours that we've tweaked and fine-tuned to make you a delicious and flavoursome cake… after all, a cake is a cake and there to be eaten as well as admired.
Choose the same in each tier or mix it on up, whichever takes your fancy…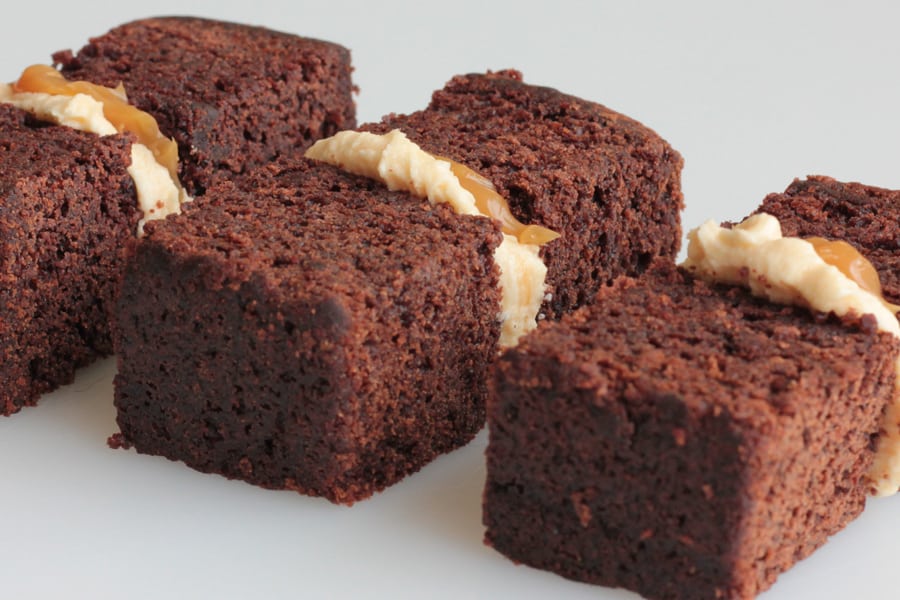 Chocolate Salted Caramel
Heaven in a cake! Having decided to update our wedding cake menu and trying out our new chocolate salted caramel flavour at recent wedding fairs I know for sure this new flavour is going to be a hit! Take our rich, dark chocolate cake, add lashings of caramel buttercream and a generous dollop of salted caramel and Voila! You have our unbelievably yummy chocolate salted caramel cake.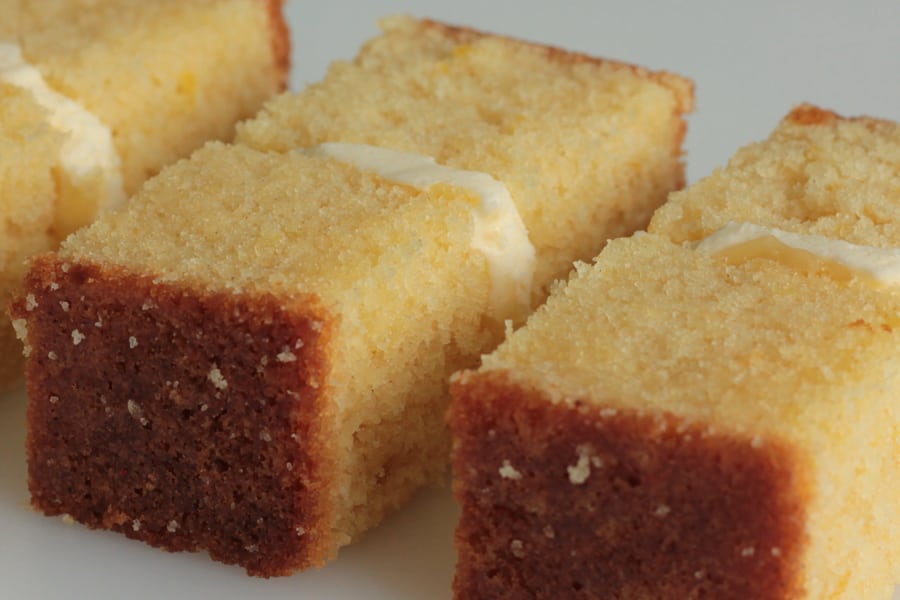 Lemon and Elderflower
If it's got the "Royal Approval" then why not add it to our repertoire! Introducing a new twist on our original Lemony Lemon Cake; a gorgeous light fragrant elderflower and lemon sponge cake layered with zesty lemon curd and an elderflower buttercream. An excellent choice for a Summer wedding! Of course, if you'd prefer our original Lemony Lemon Cake then just ask..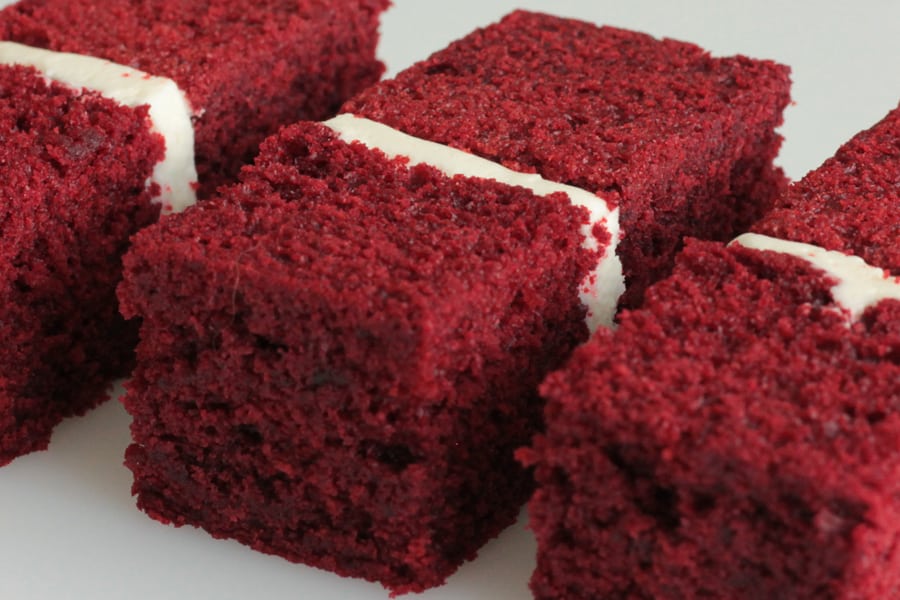 Red Velvet
There's something a bit special about cutting into a red velvet wedding cake and seeing the wonderful contrast between the bright red sponge and the almost white vanilla buttercream. With a subtle hint of chocolate and a gloriously light sponge, you're going to love it! Especially good for a Christmas wedding or if your colour scheme is red and white (or if you're a huge fan of red velvet cake of course!)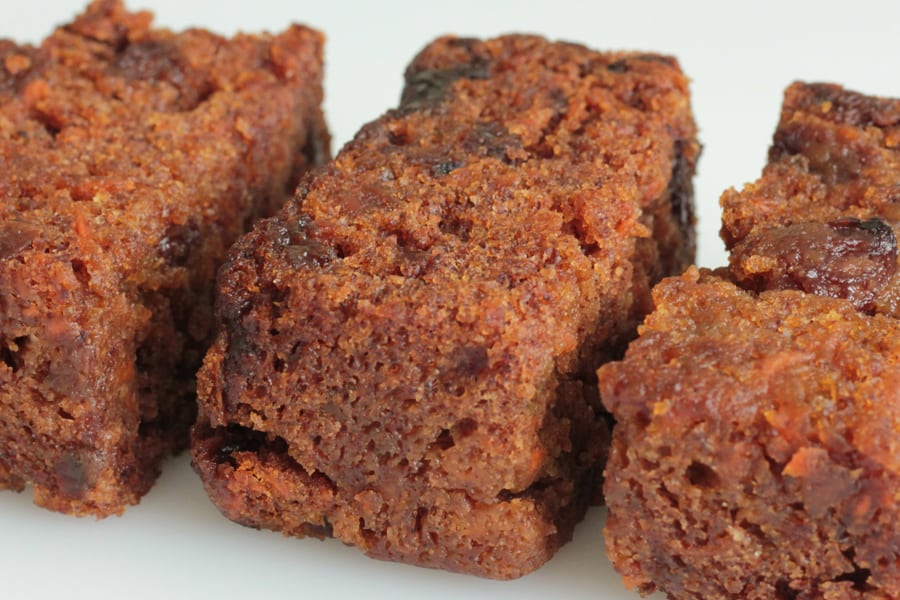 Carrot and Pecan
Made with the purest sunflower oil, this perhaps is a slightly healthier choice! Packed with carrot, pecan nuts, wonderfully spiced and soaked in an orange sugar syrup, this carrot cake doesn't really need a filling but orange butter icing works really well.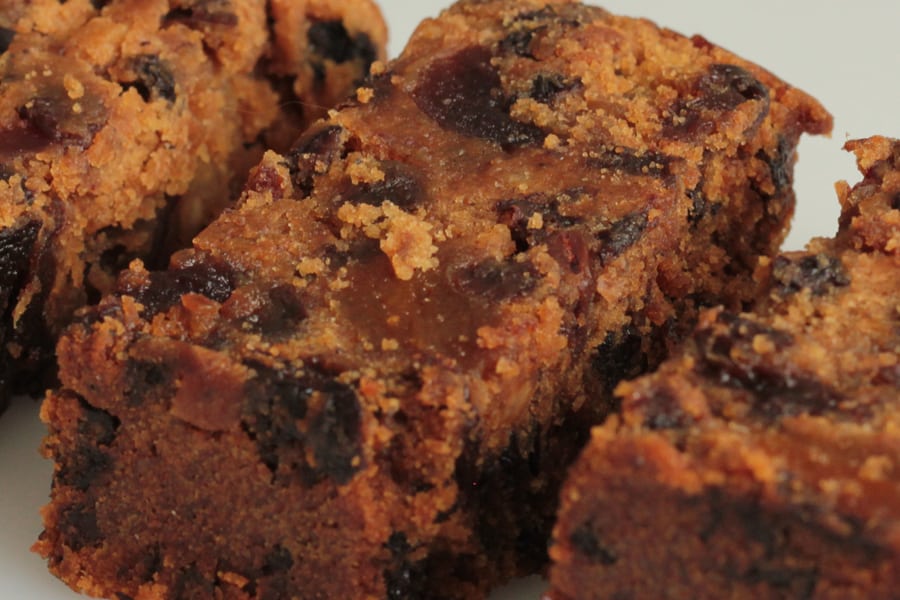 Traditional (but not too traditional) Fruitcake
We've pondered many a fruitcake in our quest to find what, in our humble opinion, is the perfect mix. Jam-packed with a whole array of fruit infused with brandy, orange zest and juice for 36 hours then, when baked, ideally left to mature for 3 months; this fruitcake really packs a punch! Plus we're pretty sure you're getting at least 4 of your 5 a day!
Rich, dark chocolate
OK, so who doesn't like chocolate cake? Made with dark Belgian chocolate AND cocoa powder this is a chocoholics dream! Deliciously dense in texture (but not too heavy going) and soooo moist, it's really hard to resist!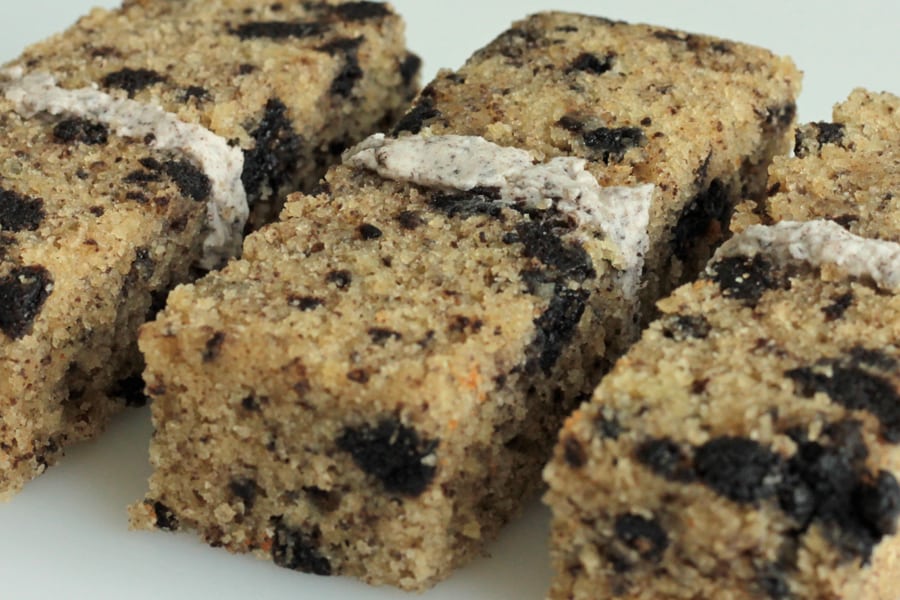 Cookies and Cream
Who doesn't like Oreo cookies? I'm not a massive biscuit lover but if there's a packet of Oreos in the house, they'd better watch it!
This cake is jam-packed with the little devils; in the sponge and in the buttercream, giving the cake a sweet, chocolatey taste with a bash of vanilla on the side. Honestly, this cake rocks!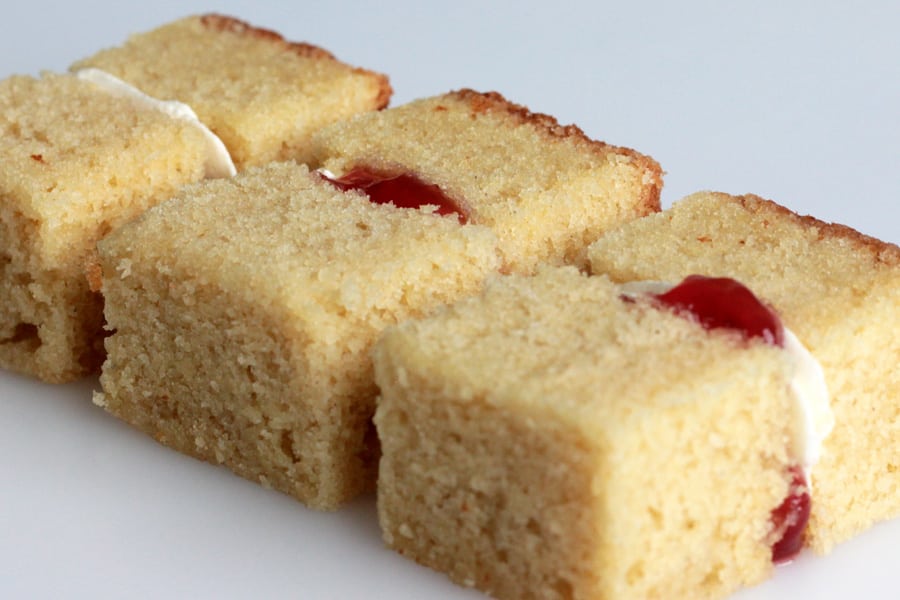 Victoria Sponge
Who doesn't love Victoria Sponge? Probably the safest flavour on our cake menu, especially where small children are concerned! A plain vanilla sponge sandwiched together with raspberry jam and the added bonus of some delicious vanilla buttercream. Yum!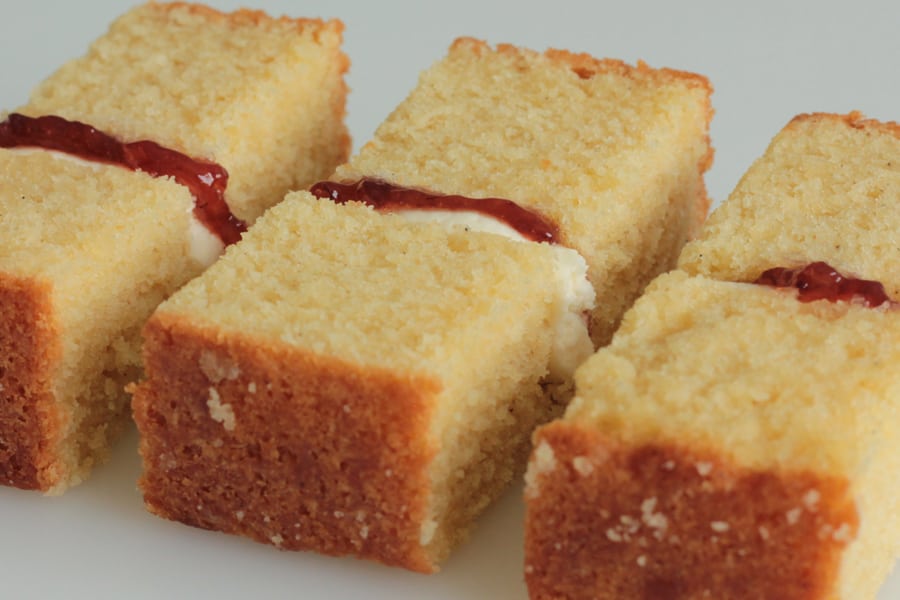 Strawberry and Champagne
What better way to celebrate your special day than with this beautiful cake. Our Madagascan Vanilla sponge, soaked in a Champagne syrup, layered together with vanilla buttercream and an extra special strawberry and Champagne preserve. Mmmmm.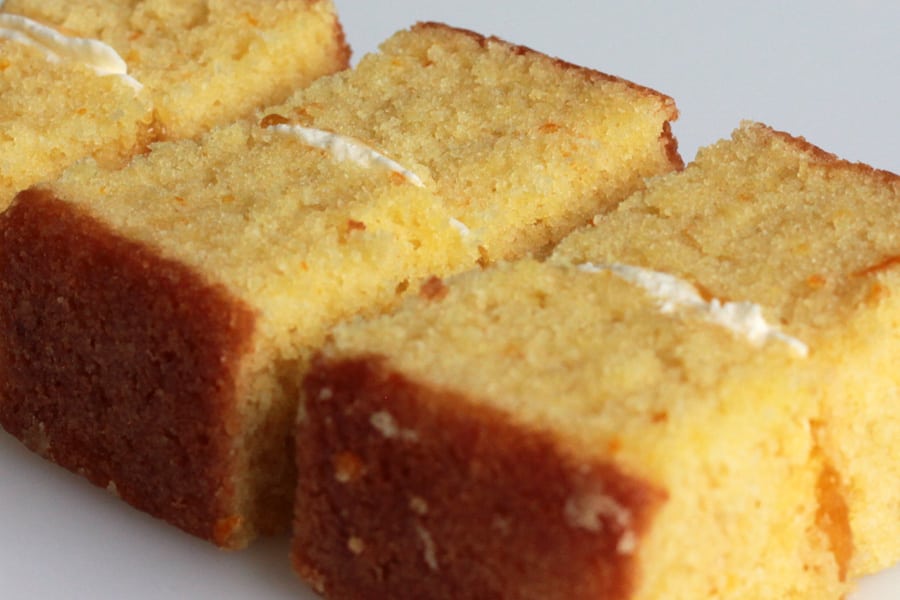 Zesty Orange
Made the same way as our Lovely Lemony Lemon Cake (in other words REALLY orangey!) Added to the sugar syrup is Grand Marnier liqueur. If you're a lover of chocolate orange, how about teaming the cake with a rich chocolate butter icing? Just a thought…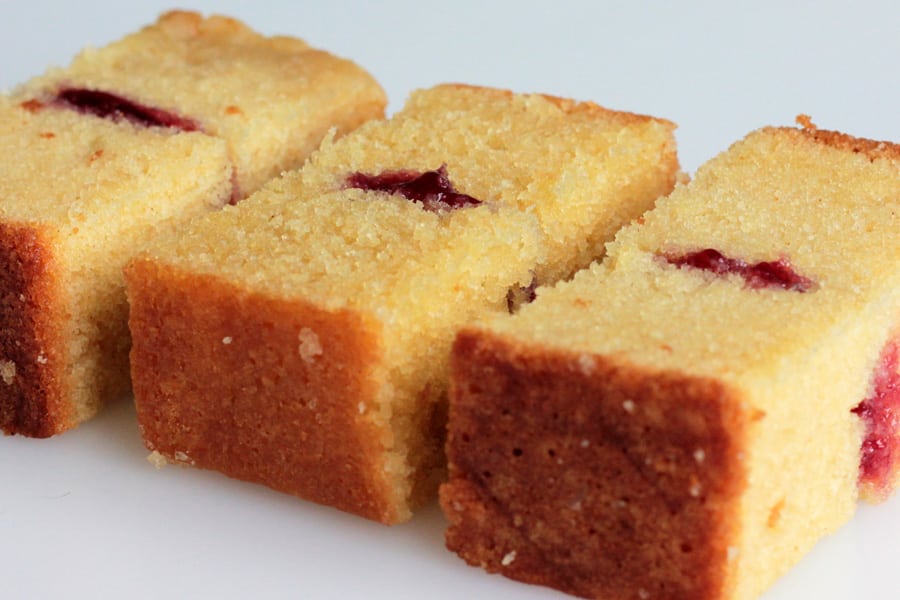 Cherry Bakewell
Almonds; they're a bit of a "Marmite" thing – you either love them or hate them, a bit like Marzipan. Me? I'm with the former and I especially love our Cherry Bakewell cake. A beautifully moist sponge, packed with almond flavour and sandwiched together with Morello Cherry Preserve. A great choice if you're having your wedding cake for dessert with a dollop of vanilla ice cream – Yummy!
YOUR CAKEY GUIDE TO EVERYTHING ELSE!
PRICE GIUDE
Due to the bespoke nature of our iced wedding cakes they are priced based on your specific requirements, but to give you an idea here is a guide for a basic iced wedding cake with a simple ribbon trim, based on finger portions (1" x 1" x 5″):
2 tier – 6″ & 10″ (serving 80) £300
3 tier – 4″, 7″, 10″ (serving 100) £450
4 tier – 4″, 6″, 8″, 10″ (serving 130) £550
5 tier – 4″, 6″, 8″, 10″, 12″ (serving 170) £700
How elaborately you want your wedding cake decorated will determine the final cost, for example having a sugar floral cascade on the cake will cost more than having a few hydrangea blossoms or royal iced pearls.
We're always keen to try to work to a couple's cake budget where we can so please don't be shy, if you have any questions just drop us an email or give us a call.
Our "Naked" and "Semi-naked" wedding cakes start from £300, Buttercream from £350
Our Cupcakes start from £2.75, with a 6" cutting cake from £50 and our iced mini cakes from £8.50.
We also make cookie favours for your guests which start from £2.75 (gift wrapped).
Our minimum order value is £300
Have a look below for three specific pricing examples of iced wedding cakes with more complex decoration than the basic cake…
Laura is a 2 tier ivory and blush-pink wedding cake decorated with handmade sugar roses and peonies, dusted with an edible gold lustre and edible gold leaves and finished off with ivory grosgrain ribbon. Laura's tiers here are 6″ and 8″
£375 (serving 60 finger portions)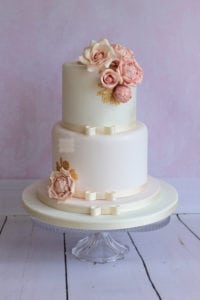 Bella is a 3 tier ivory wedding cake decorated with intricate edible sugar lace on the top and bottom tiers. The middle tier has been painted with edible pearl lustre to give it a heavy sheen and is finished off with a plaque which can be personalised with the bride and groom's initials.
£450 (serving 90 finger portions)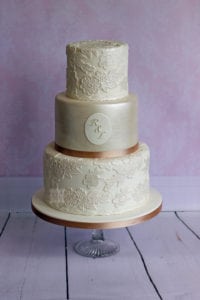 Lois is a 4 tier ivory wedding cake decorated with clusters of handmade dusky pink and ivory sugar roses and antique gold leaves. The top and third tier are also decorated with edible sugar lace. Finished off with piped pearls and lace ribbon.
£675 (serving 130 finger portions)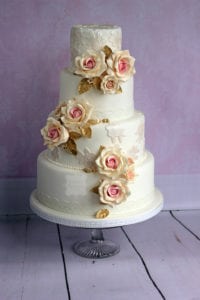 PORTION SIZES
Below is the approximate portion guide for a single tiered cake
| | 5″ | 6″ | 7″ | 8″ | 9″ | 10″ | 11″ | 12″ | 14″ |
| --- | --- | --- | --- | --- | --- | --- | --- | --- | --- |
| Round | 15 | 20 | 30 | 40 | 50 | 60 | 70 | 80 | 100 |
| Square | 20 | 25 | 40 | 50 | 65 | 80 | 95 | 110 | 130 |
Below is a table of popular tier configurations and their approximate portion quantities
| | 6″ 10″ | 6″ 8″ 10″ | 6″ 9″ 12″ | 6″ 8″ 10″ 12″ |
| --- | --- | --- | --- | --- |
| Round | 80 | 120 | 150 | 200 |
| Square | 105 | 155 | 200 | 265 |
Tradition has it that you keep the top tier for either your first baby's Christening or your first Wedding Anniversary, so when deciding on the size of your cake remember that if you choose to go with tradition the top tier won't count when calculating the portions you will need.
DUMMY TIERS
Hmm that sounds weird. But it really isn't – honest!
If you're having a relatively small wedding but want a lovely large cake as your focal point we can make the bottom tier from "real" cake, which you would cut into, then the other tiers can be "dummy" tiers, which are made from polystyrene but iced and decorated exactly the same as your real tier.
Just remember when you come to cut the cake to cut the bottom tier instead of the others!
CAKE STANDS
If we're making your wedding cake and you're not overly fond of your venue's stand or you've decided on having a cupcake tower for instance, we've now a great selection of cake stands for hire.
From glass pedestal stands (round or square), American milk glass stands (in a range of colours), Vintage/shabby chic, and multi-tier acetate cupcake stands, there's a huge choice.
The hire charge is £20 and the deposit charges are as follows;
Glass pedestal stands – £40
Vintage/Shabby chic – £50
Wooden tree slice stand – £40
American milk glass – £80
Multi-tier acetate cupcake stand – £80
The deposit should be paid in cash and once you have returned the stand back to us undamaged (and within a week of your wedding day) your deposit will be paid back to you minus the £20 hire charge.
We'll be adding pictures here shortly…
ALLERGY ADVICE
We use only the best ingredients to make our cakes taste super-scrummy; organic where possible, free-range and fair trade.
Our cakes contain dairy, gluten (wheat) and made in an enviroment that handles nuts and soya. They are suitable for Vegetarians but not suitable for Vegans. Therefore please advise us of any food allergies or speacial requests before you order.
FRESH FLOWERS AND INEDIBLE ITEMS
FRESH FLOWERS
There's really nothing like the beauty of fresh flowers and if you decide you'd prefer to have them as opposed to sugar flowers then that's not a problem at all. Just be aware that not all fresh flowers are suitable to put directly onto cakes due to their toxicity. Check with your florist before you decide, they will be able to advise you on this matter.
We would prefer to attatch the flowers ourselves so we will liaise with your florist before your big day for them to supply them and meet up with them at the venue on the day, then arrange the flowers on the cake. If you have any queries please don't be shy, we're here to help you!
INEDIBLE ITEMS
Ribbons, brooches, diamantes, pearls, feathers.. There are lots of gorgeous, sparkly items you can add to your wedding cake but these are obviously inedible and MUST be removed from the cake before serving. We will advise the caterers at the venue upon delivery and the items will be noted on their delivery sheet too.
CAKE DECORATING SERVICE
So, here's the situation; you've found THE cake in a wedding magazine that's going to fit your day perfectly…
But you've already promised your Great-Aunt, (or Grandma or future Mother-In-Law), that they can do the baking for you (perhaps from that old family recipe that's been handed down through the years!) …
Fear not! This is where we come in… bring your freshly baked cake along to us and we can decorate it for you. We'd just need to have a nice friendly chat with your relation about the shape and size of the cake but we're extremely nice and we definitely don't bite!
If you'd like to have a chat and sample some really lovely cake flavours…